05/03/19
A large shadow moves in the swirling snow storm. Suddenly, a furred beast bursts from the white landscape, an inhuman roar crashes across the frozen land!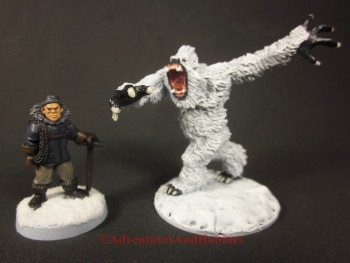 It is the mythical Abominable Snowman and he is very unhappy that you have dared to enter his domain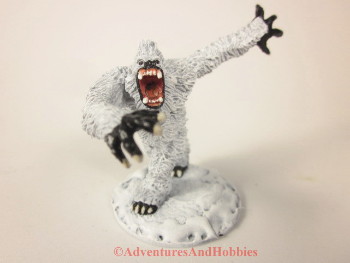 The creature's coloration allows it to blend in with the snowy environment. Its natural camouflage makes it very difficult to detect the monster at any distance.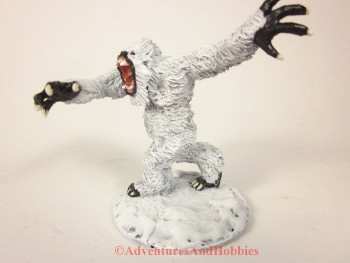 The
Yeti
possesses deadly claws on its hands and feet that are capable of inflicting severe damage. As seen in the pictures, the creature also has large dangerous teeth and it's bite can easily shred clothing and body tissue. Even armor cannot hold up to repeated assaults by this powerful monster.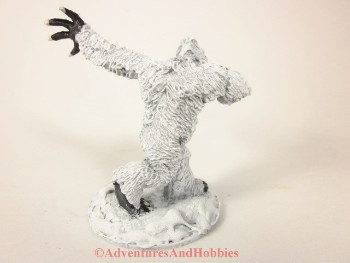 This creature is large and will tower over most 25-28 mm scale human figures. It stands about 1-7/8 inches (48 mm) to the top of its head. The base measures 1-1/2 inches (38 mm) in diameter.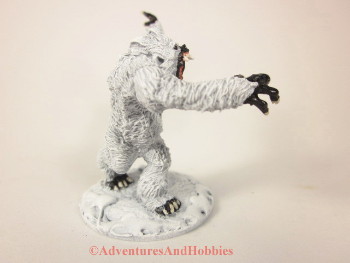 The Yeti can appear in many
game settings
. It could be used in
fantasy
,
horror
,
science fiction
,
pulp action
, and
super hero role-playing adventures
and
table top miniature war games
.
Visit my store to see more of my painted game miniatures.