07/09/20
Comments Off
05/03/19
A large shadow moves in the swirling snow storm. Suddenly, a furred beast bursts from the white landscape, an inhuman roar crashes across the frozen land!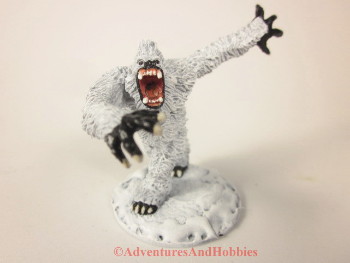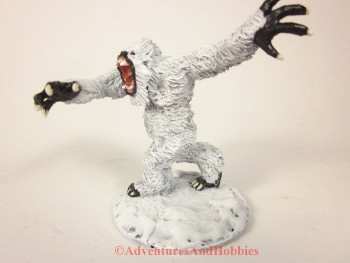 The
Yeti
possesses deadly claws on its hands and feet that are capable of inflicting severe damage. As seen in the pictures, the creature also has large dangerous teeth and it's bite can easily shred clothing and body tissue. Even armor cannot hold up to repeated assaults by this powerful monster.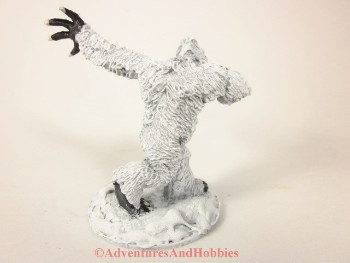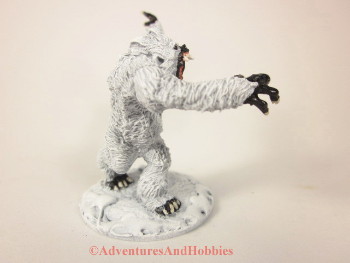 The Yeti can appear in many
game settings
. It could be used in
fantasy
,
horror
,
science fiction
,
pulp action
, and
super hero role-playing adventures
and
table top miniature war games
.
Visit my store to see more of my painted game miniatures.
Comments Off
09/25/18
Comments Off
08/06/18
Comments Off
07/13/18
Meet a Mi-Go, one of the alien races created by H. P. Lovecraft in his Cthulhu Mythos.
planet Yuggoth
, the
Mi-Go
are thought to be based on the biology of a fungus as that is the closest it can be described by human's limited understanding of the odd molecular-level differences found in the
Mi-Go
body. However, the
Mi-Go
possess advanced scientific knowledge and skills in tissue manipulation which allows them cast their own bodies in many forms. Here is one of the more common forms which appears to be crustacean in design. The bat-like wings allow the creature to travel freely through the aether between planets.
Mi-Go
to communicate with others of its kind.
Comments Off
03/30/18
These ocean-dwelling creatures are straight from H. P. Lovecraft's Cthulhu Mythos.
Amphibious in nature, they are capable of leaving the sea for brief periods of time to interact with their
human allies
or to attack their enemies.
Cthulhu investigators
need to be wary of these creatures in coastal areas around the world.
Worshipers of
Father Dagon
and
Mother Hydra
. They live in their
watery cities
deep beneath the waves.
These
25-28mm scale figures
stand somewhat taller than the average human. The sculptor has done a nice job of capturing the inhuman sentience of the creatures.
These miniatures can be used in any Call of Cthulhu™ game. They could easily appear in many other horror, fantasy and science fiction games, both role-playing and table top wargames.
Visit my store to see more of my painted game miniatures.
Comments Off
08/08/16
Deep in a dark dungeon, a party of adventurers pauses to survey the dim corridor stretching in front of them. Even in the flickering glow of their torches, the way appears clear and inviting. Cautiously they move forward in search of treasure. A soundless vibration moves through the passage, a too brief warning… Suddenly, the surface of the corridor cracks apart, flat floor stones shifting and rising. A large creature bursts from beneath the floor of the corridor, scattering stone and dirt in all directions! Rearing above the adventurers' heads, the giant cavern worm senses its prey. Its large mouth opens to reveal rows of sharp fangs that can impale its prey and draw the unfortunate victim into the creature's stomach.
I chose to paint the
monster
in grub-like colors. Not unlike some of the small grubs that inhabit our lawns, feeding on the tender roots of grass.
To give the impression of the
creature
rising from a
dungeon corridor
, I crafted a base with flat floor stones being pushed up and falling away at all angles. I also added soil and rocks sliding down the worm's sides as it rises above the floor.
This
miniature
provides a great large
monster
to confront the
player characters
and
NPCs
in a
fantasy role-playing encounter
. It could also be used in a
horror
or
science fiction scenario
. The figure stands 2-3/4 inches (70 mm) so it towers over the average
25-28 mm scale miniatures
. The base measures 2 inches (50 mm) across.
Visit my store to see more of my painted game miniatures.
Comments Off
07/04/16
Meet the Boys in Blue! These municipal policemen stand between the city's regular citizens and the forces of evil. Whether it be the run of the mill local thieves, organized crime, and other social malcontents, or the crazed minions of Cthulhu-worshiping cults, the cops stand ready to serve and protect.
These
officers of the law
wear the longcoats and peaked hats found in many
police departments
in the
1920s
and
1930s America
.
They carry a variety of
weapons
. The traditional
billy club
and
service revolver
are common accessories used on the daily beat. But when the situation calls for it, the
police
can draw more powerful weapons from their
armory
, including shotguns, rifles and even fully automatic Thompson submachine guns!
Here are some close-up shots of individual officers.
These
25mm scale miniature figures
would be right at home in many
role-playing games
and
table top miniature games
. From the historically realistic
crime capers
to the
supernatural dangers
found in
Call of Cthulhu
™.
Watch for future blog entries that will highlight some of the forces aligned against the Boys in Blue!
Visit my store to see more of my painted game miniatures.

Comments Off
01/28/15
Your local cultists are looking for new members. Come on down to the local summoning grounds and meet up with your robed pals. Stand around the ancient stones and sing those great old chants. Fun and games… at least until one of the Elder Gods appears!
Here is a large group of hooded cultists from a custom painting order I just completed. First thing, everyone gets into the proper mood with the initiates intoning a few low key chants while standing around a tall summoning stone.
Then the main event begins when the
cult leaders
show up to start the really big show. First there is the reading from the
sacred tomes of knowledge
. A few special
artifacts
get to be revealed (skull, sacramental cup).
Sacrificial knives
are pulled and things really heat up.
Then there is the women's special branch to bring their particular energies to the meeting.
These are
25mm-scale miniatures
. All of the
figures
are painted in similar colors to create the image of group cohesion. The bases are finished in outdoor soil and leaves. The
figures
can be used in a variety of
gaming scenarios
. They could represent medieval penitents in a
fantasy world
, devil worshipers in a
Gothic horror
setting, or fanatical followers in a
pulp adventure
. All just waiting for your band of righteous
adventurers
to show up and disrupt the ceremonies.
Visit my store to see more of my painted miniatures.

Comments Off
10/15/14
Welcome to the apocalypse! Our hero has managed to survive the first chaotic months of the zombie plague.
A bit worse for wear (his tattered clothing speaks to some of the tight spots he has survived in the
post apocalyptic world
), he carries an
assault rifle
. He also has a semi-auto pistol in a belt holster.
A small backpack carries all of his meager possessions. A small coil of rope hangs on his shoulder.
This 25 mm scale game figure could easily assume the role of a Player Character or NPC in many role-playing games and table top war games including post apocalypse, zombie infestation, science fiction, pulp action and horror genres such as Call of Cthulhu™.
Visit my store to see my painted miniatures.

Comments Off