08/13/23
Colonizing a new planet is not for the weak. In most instances it means long years of toil on the frontier of an untamed world. Sometimes colonists face aggressive native species; sometime the danger comes from age old clashes brought within the human community. New colony worlds can also become the target for roving space pirates intent on raiding small colonies for valuable plunder. The need for basic defense is common.

Often the struggling settlements possess only low-tech small arms because of the cost of importing and maintaining higher-tech weapons. In times of trouble, this group of colonists carries an assortment of slug throwers from handguns to shotguns.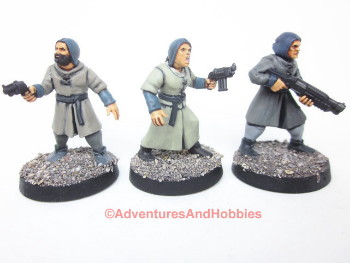 I chose to paint the figures with muted colors. The head coverings and clothing accents are painted in a similar color to suggest the characters belong to a particular family, clan or community.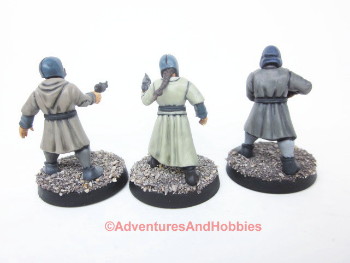 These
28mm-scale miniatures
are
kitbashed
from models by different manufacturers. They could be used in a variety of
science fiction role-playing
and
table top miniature games
including
Stargrave
™ and
Five Parsecs From Home™
.
You can see more of my
painted miniatures
by visiting
my store
.
Comments Off
07/20/23
The Cthulhu Mythos has lured many people to their peril. Here are four individuals from the 1920-30s becoming embroiled with the Mythos.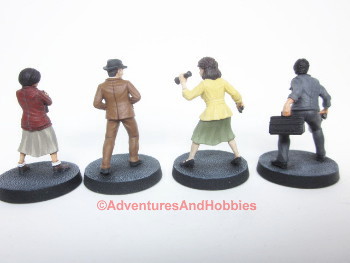 The young
college co-ed
. As a library research assistant, she stumbled into Mythos references in the restricted book stacks of her university library. Now she has a thirst for divining even deeper
arcane knowledge
.
The
reporter
. Hungry for sensational stories to add to his byline, he is always on the lookout for tidbits with even the smallest hints of the
occult
.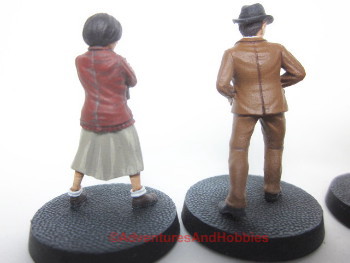 The
socialite
turned
investigator
. Her social connections have revealed rumors of dark activities among the upper classes and she intends to uncover the truth.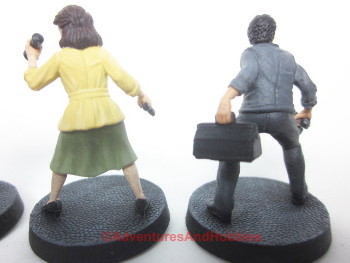 Comments Off
07/19/23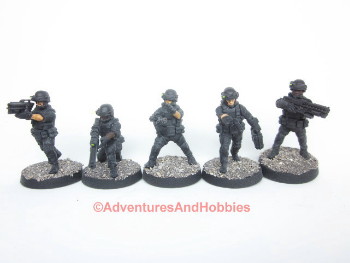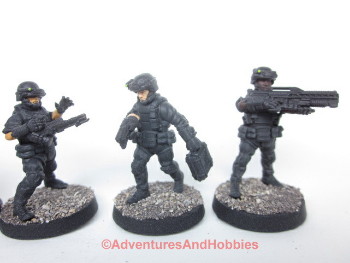 Comments Off
05/28/23
As interstellar flight became available, Earth's inhabitants journeyed beyond the confines of their home solar system. Most contact with new sentient species went smoothly and with little conflict. Unfortunately, the expansion sometimes fell short of noble intentions. Some Terran individuals, groups and governments brought with them age-old problems. Political interests, religious beliefs, racial/species bias, commercial greed and more caused friction in some interactions.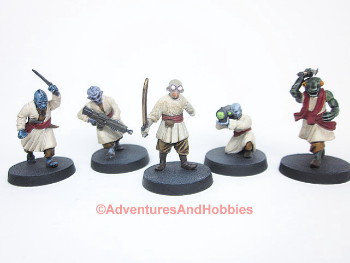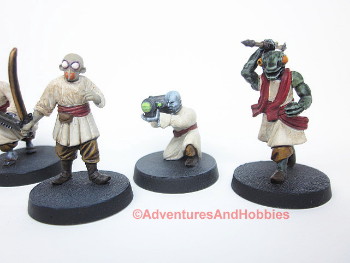 These
plastic 28mm scale game miniatures
are
kit-bashed
from multiple manufacturers. They can be useful in many
science fiction games
including Stargrave™ and Five Parsecs From Home™.
Visit my store to see more of my painted game miniatures.
Comments Off
07/15/22
The pilot carries a laser pistol. The technician holds a datapad and tool. The security officer is armed with a power rifle.
Comments Off
04/17/22
Comments Off
04/15/10
In the beginning, there was nothing … Just an emptiness, a blank void waiting to be filled with content …
Welcome to my painted figure blog!
I plan to offer up some of my painted miniatures for your viewing. The figures will come from a variety of genres including Fantasy, Science Fiction, Horror, Pulp and more. Most will be in the 25 to 28 mm scale, but other scales will make their appearance.
For those who have stumbled upon this blog, perhaps a brief introduction to the figure world is appropriate. These small figures are used primarily in role-playing games (such as Dungeons & Dragons™ and Call of Cthulhu™) and table top war games (including Warhammer 40K™ and Warmachine™). The miniatures are typically made from metal or plastic and can contain a significant level of detail in the castings. In addition to active game use, some fans of the miniatures simply like to collect them as display pieces.
I hope you enjoy this little corner of the blog universe.
---
Copyright and Other Notices
All content including photos Copyright © 2010-2020 by Adventures & Hobbies - All rights reserved. No material including photos, found on the website may be used, altered, reproduced, downloaded/uploaded, or transmitted in any manner without the express prior written consent of Adventures & Hobbies.
Any mention of a copyrighted game, miniature or other product does not constitute a challenge to the copyright holder. All products' copyrights are reserved by their respective manufacturers.
Warning: These items may contain small parts, sharp bits, and other potentially hazardous properties. Unless specifically indicated, they are intended for adult use only and are not designed for children of any age.
Comments Off