05/03/19
A large shadow moves in the swirling snow storm. Suddenly, a furred beast bursts from the white landscape, an inhuman roar crashes across the frozen land!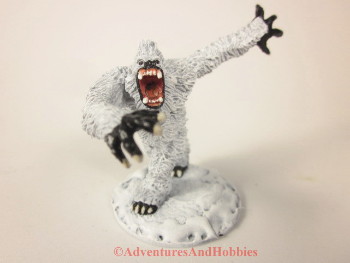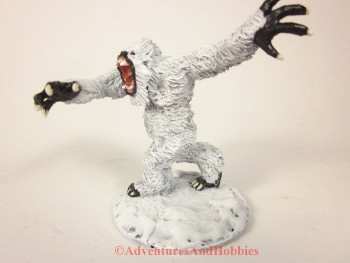 The
Yeti
possesses deadly claws on its hands and feet that are capable of inflicting severe damage. As seen in the pictures, the creature also has large dangerous teeth and it's bite can easily shred clothing and body tissue. Even armor cannot hold up to repeated assaults by this powerful monster.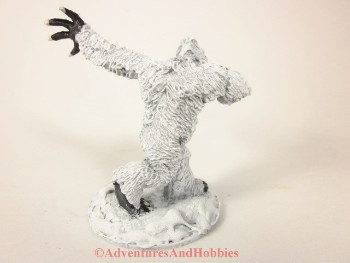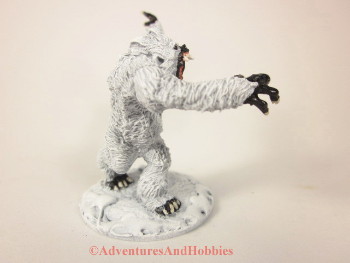 The Yeti can appear in many
game settings
. It could be used in
fantasy
,
horror
,
science fiction
,
pulp action
, and
super hero role-playing adventures
and
table top miniature war games
.
Visit my store to see more of my painted game miniatures.
Comments Off
03/22/19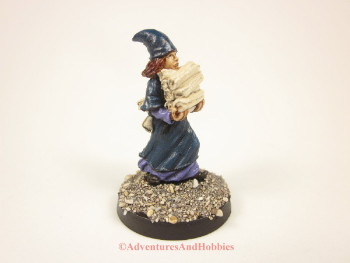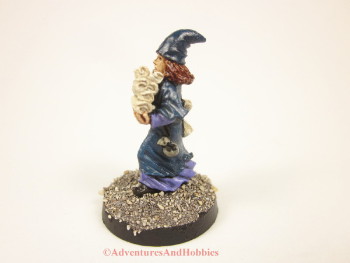 Comments Off
08/15/18
Comments Off
08/06/18
Comments Off
07/13/18
Meet a Mi-Go, one of the alien races created by H. P. Lovecraft in his Cthulhu Mythos.
planet Yuggoth
, the
Mi-Go
are thought to be based on the biology of a fungus as that is the closest it can be described by human's limited understanding of the odd molecular-level differences found in the
Mi-Go
body. However, the
Mi-Go
possess advanced scientific knowledge and skills in tissue manipulation which allows them cast their own bodies in many forms. Here is one of the more common forms which appears to be crustacean in design. The bat-like wings allow the creature to travel freely through the aether between planets.
Mi-Go
to communicate with others of its kind.
Comments Off
07/07/18
Comments Off
03/30/18
These ocean-dwelling creatures are straight from H. P. Lovecraft's Cthulhu Mythos.
Amphibious in nature, they are capable of leaving the sea for brief periods of time to interact with their
human allies
or to attack their enemies.
Cthulhu investigators
need to be wary of these creatures in coastal areas around the world.
Worshipers of
Father Dagon
and
Mother Hydra
. They live in their
watery cities
deep beneath the waves.
These
25-28mm scale figures
stand somewhat taller than the average human. The sculptor has done a nice job of capturing the inhuman sentience of the creatures.
These miniatures can be used in any Call of Cthulhu™ game. They could easily appear in many other horror, fantasy and science fiction games, both role-playing and table top wargames.
Visit my store to see more of my painted game miniatures.
Comments Off
02/23/18
Adventuring in the cold fantasy world of Frostgrave™ requires hardy characters. In addition to the need to be skilled in the normal combat and arcane arts, the travelers crossing the chilly ruins must be prepared to deal with the frozen climate. Heavy winter clothing is a must, but not so bulky as to prevent the wizard's arcane incantations or the fighter's deft weapon skills. Here are a few adventurers who appear to be up to the task.
The Wizard, leader of the party. His cloak and robes keep him warm in the gusty chill as he directs his hirelings. Yet his staff is easily wielded.
The
Apprentice
, seeking to learn everything the
Wizard
is willing to teach him. All the while lugging around whatever magical tomes his master may require.
The
Ranger
, skilled at traveling the frozen countryside. Cloak, padded leather armor, tall boots all aid in his journey. His trusty bow always ready to deter any foe in the snow mists.
Visit
my store
to see more of my
painted game miniatures
.
Comments Off
04/12/17
A bit of a departure from our usual fare. Although not exactly a miniature figure, these small scenery pieces are pretty related to our regular topic so I hope you find them of interest.
Treasure! Gold, gems, magical items! It's what every adventurer hopes to find!
These
custom-made painted scenery pieces
can be used as
objective markers
for your
20-30mm fantasy tabletop war gaming
such as
Warhammer Fantasy
. They can also be used in many
role-playing games
such as
Dungeons and Dragons
.
The base of each treasure measures about 1-1/4 inches (32 mm) in diameter. Here is one of the treasure hoards shown with a 25mm scale miniature to give you an idea of size.
These
treasure piles
and other
miniature scenery pieces
can be found at
my store
along with my
painted figures
. If you have an interest in
miniature scenery and terrain
, you can find much more information on my
Universal Terrain blog
.
Comments Off
01/30/17
Rat men populations can be found in many fantasy gaming worlds. These intelligent creatures form fairly complex societies. This individual is a shaman for his nest.
He carries a
staff
in his right hand. This is a symbol of his leadership position in his clan. The staff is adorned with various
religious totems
including an ancestral skull and a small metal bell.
Unlike the religious members in many human societies, the
rat man cleric
is not prohibited from the use of
blade weapons
in combat as proven by the nasty
sword
he wields in his left hand.
Rat men
can provide interesting encounters in many
fantasy role-playing games
. In fact, for those game systems that allow it, why not include a
rat man
in your
adventuring party
of
Player Characters
for some different player interactions?
Visit my store to see more of my painted game miniatures.

Comments Off