04/22/11
Goblins! Oh, they're so cute! No, wait. No they're not. In fact they are downright horrible diminutive monsters!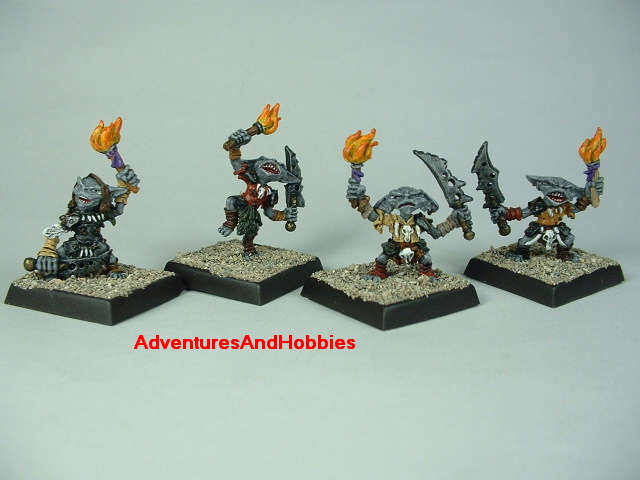 Goblins
may be smaller than most
fantasy races
, but they certainly make up for it in their demeanor. None of these fellows are going to win any popularity awards.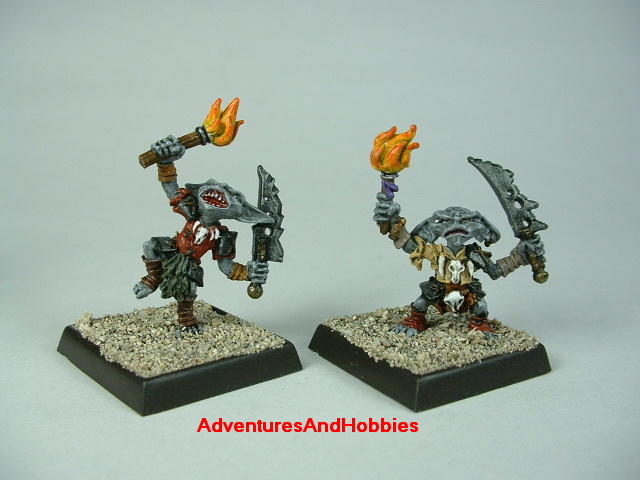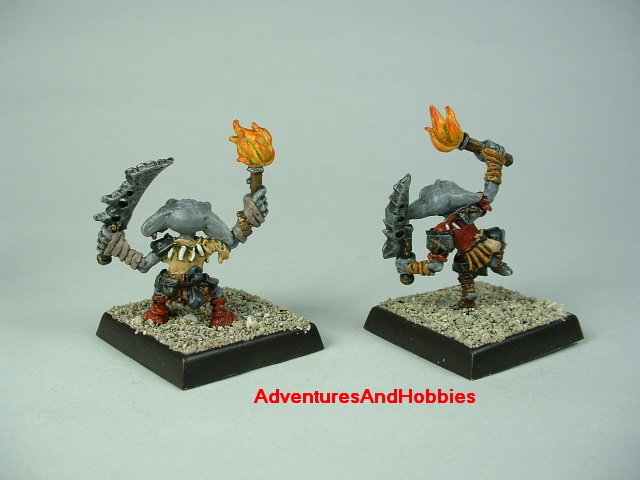 Their primary
weapon
of choice is a nasty little
sword
. But this band of
goblins
also uses fire as a
weapon
. The torches they carry will light a fire under any party of
adventurers
unlucky to cross paths with the
goblins
.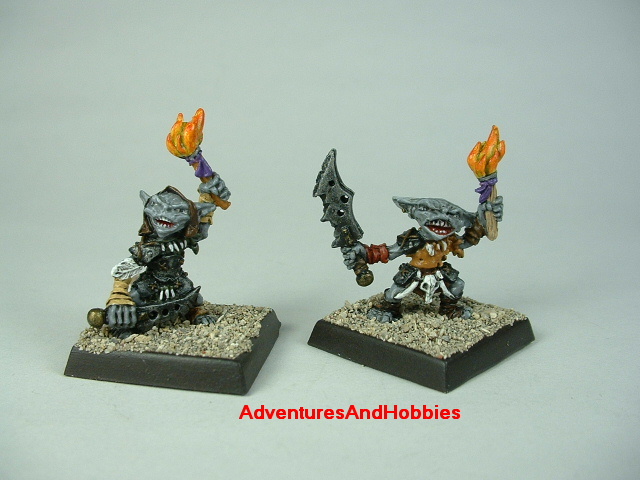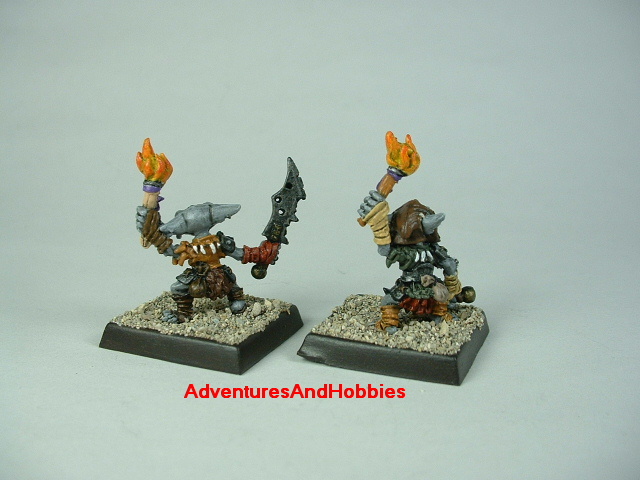 Armor
is rather piecemeal and consists mostly of
metal plates
woven into their clothing along with leather bindings on arms and legs. They embellish their clothing with the bones of defeated
enemies
. The large grins on their faces attest to the blood lust they feel toward their
enemies
.
Once again, these 25-mm scale goblin miniatures are a reminder that size is not the only indicator of danger when it comes to encounters that your player characters may face in your fantasy role-playing campaign world or table top war game.
Comments Off
04/15/11
"Orcs!"(or "Orks!" if you prefer.)
The very name instills fear in many a denizen of a fantasy world. Some may call them brutish, unintelligent and simply monsters. But Orcs often form their own societies (frequently not all that different in basic interaction from humans and others). On the battlefield, they make formidable opponents.
Here is a trio of Orc archers as example. Their large, muscular bodies allow them to wield very strong bows with proficiency.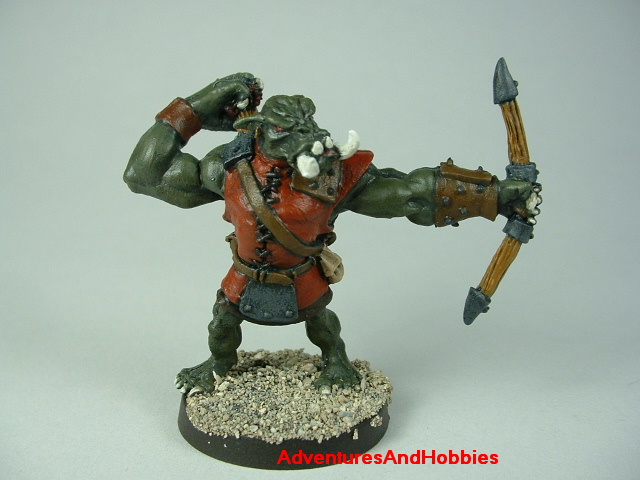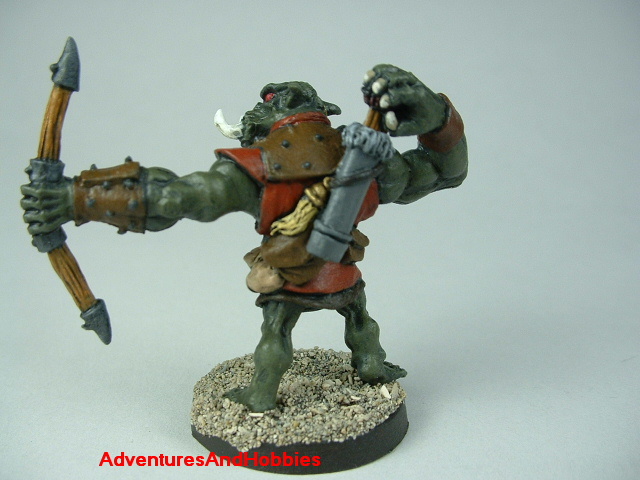 These
warriors
wear an assortment of simple (some may say crude) clothing and
armor
. Most is made from
leather
, with some
metal studding
. There are some bits of
metal plate
and
chainmail
incorporated into their outfits for added protection.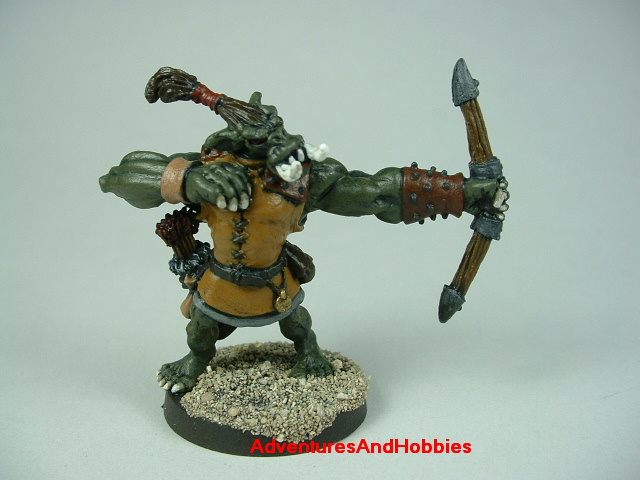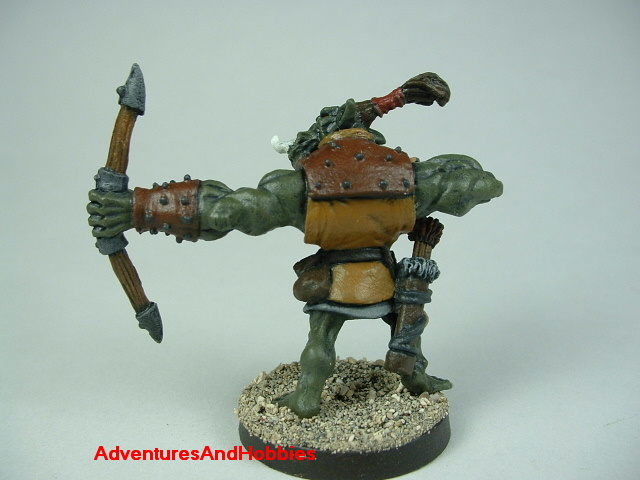 Their language may sound guttural and animal-like to many, but there is no doubt that there exists a developed intelligence behind their reddish eyes.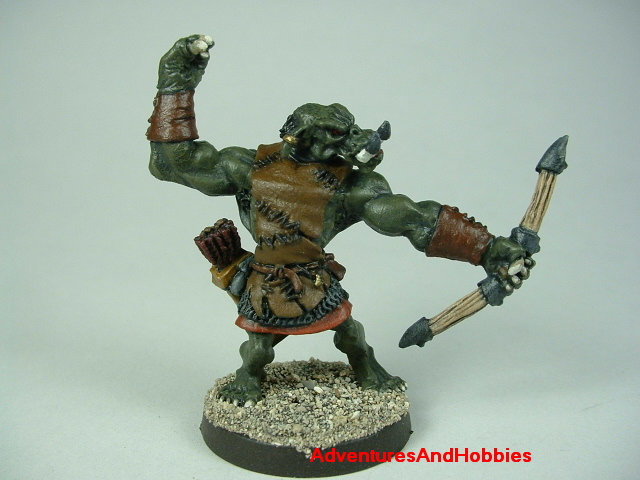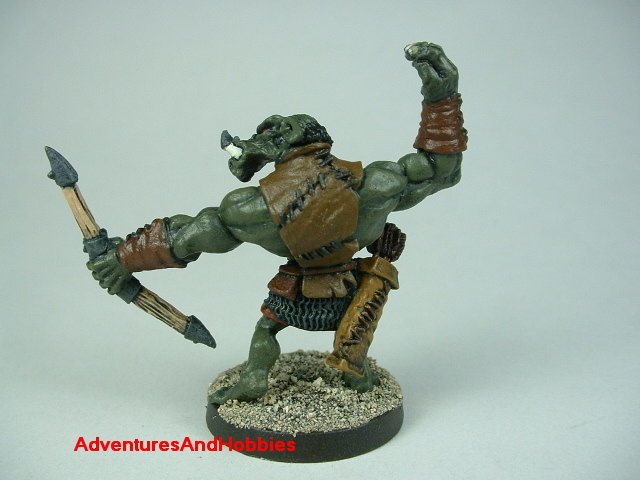 In most
fantasy worlds
,
Orcs
are treated simply as low level opponents. But some players choose to incorporate
Orcs
into their parties of
adventurers
as
Player Characters
and
NPCs
. Whatever your preference,
Orcs
add to the spice of life in many
fantasy role-playing games
and to the
battlefields
of
table top war games
including
Warhammer Fantasy
™.
Comments Off
04/10/11
Men at arms are professional soldiers who are prepared to fight for their liege or patron. Here are a couple of examples.
Our first soldier is outfitted with a combination of plate mail and chainmail armor. He also possesses a helmet and round shield for additional protection. He is armed with a sword.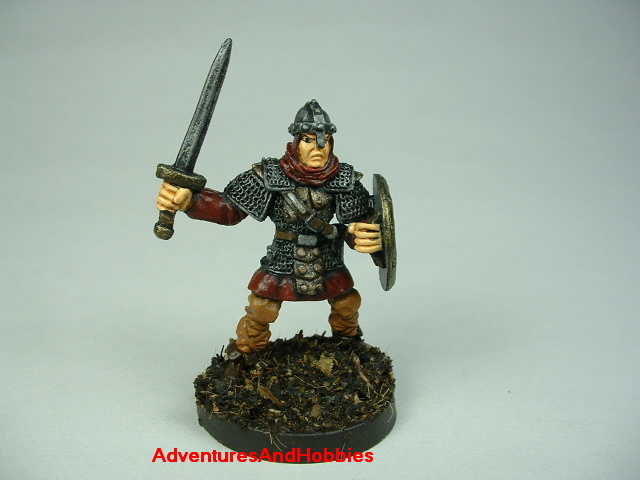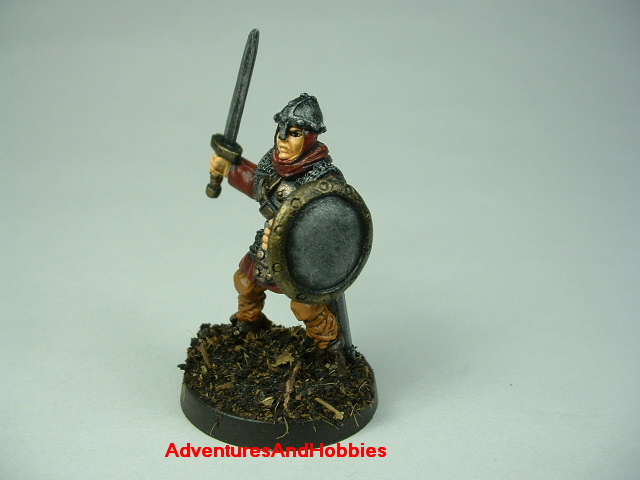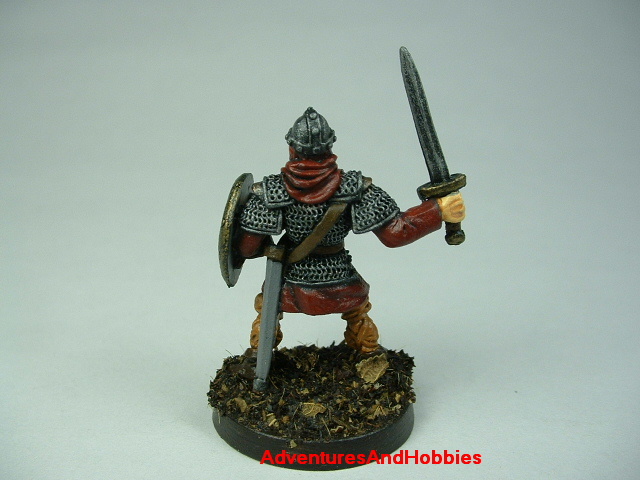 The second
warrior
is similarly protected with
platemail
and
scale mail
along with a
helmet
. His main
weapon
is a
longbow
, but he also carries a
longsword
sheathed at his side for close in
combat
.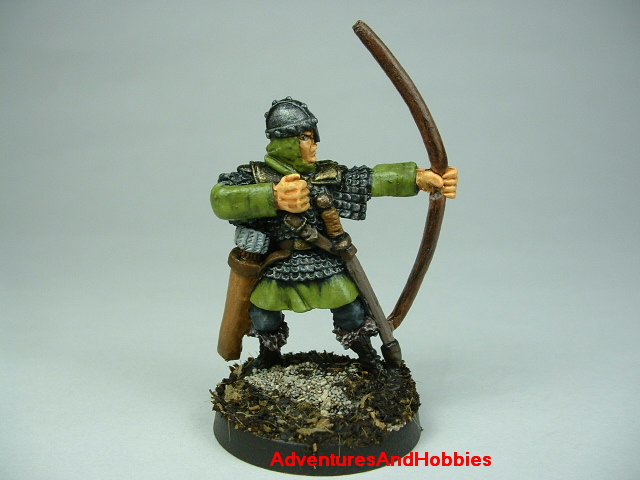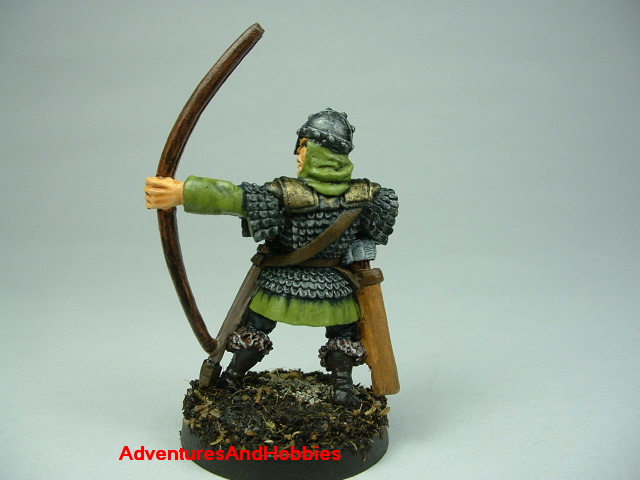 Fighters
like these form the basis of many
castle
or
city guards
. They can be found throughout
medieval fantasy game campaigns
.
Comments Off
04/08/11
A malevolent intelligence peers out through the red eyes of this winged horror. Perched atop a stone outcropping, the gargoyle seems to be carefully watching his intended victim.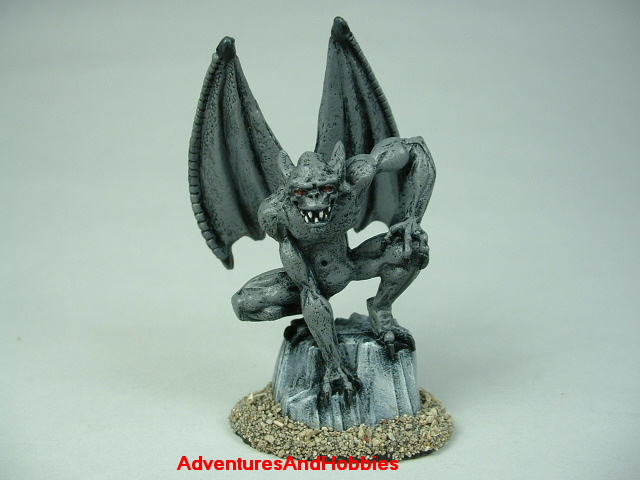 Despite the animal-like body, there is a distinct aura of deep intelligence here. Sure, there are the
wicked fangs
and
sharp talons
ready to tear apart his opponent.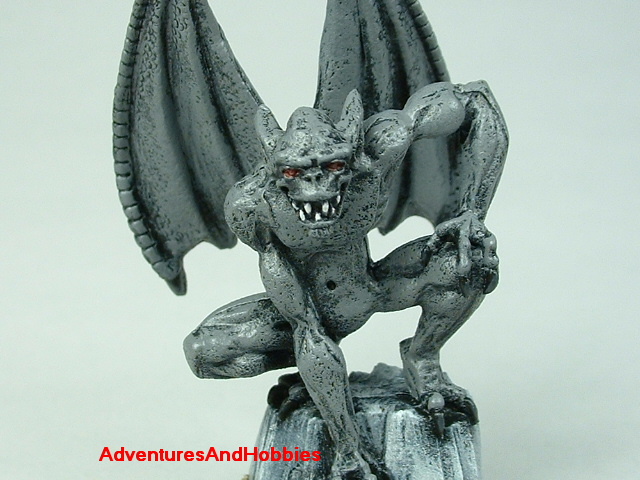 But there is more than just animal cunning. Which makes the
gargoyle
all that more dangerous!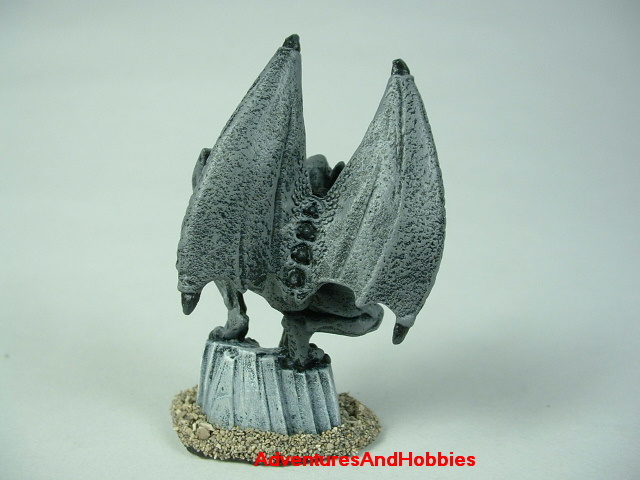 This
25 - 28 mm scale monster
should cast fear into the hearts of all
player characters
in your
game
.
Gargoyles
can be found in
fantasy
,
horror
,
pulp
and other
role-playing game campaigns
.
Comments Off
04/06/11
Arcane winds whip about this elven sorcerer, tossing his hair and robes. As he calls upon dark powers, he holds a jewel-encrusted magical staff in his left hand. The staff is topped with an evil skull casting and acts as a focus for the dark magics. He also wields a nasty dagger in his other hand.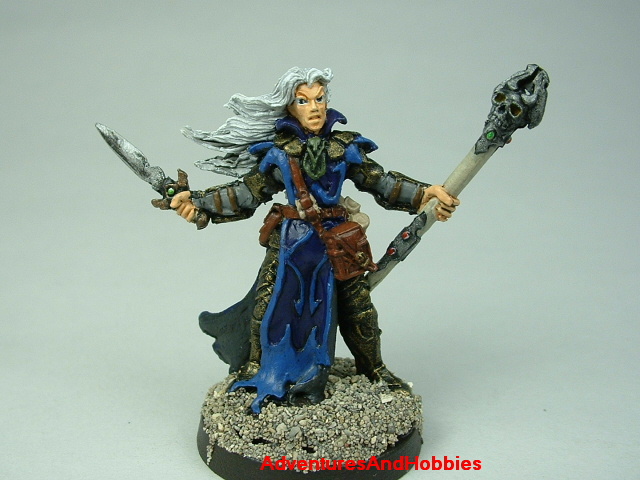 The
wizard
wears
plate mail armor
for protection beneath his robes. Various pouches and
scrolls
hang from belts, each containing more
magical components
and
weapons
. He wears a greenish medallion around his neck that might be of
Cthulhu
origin!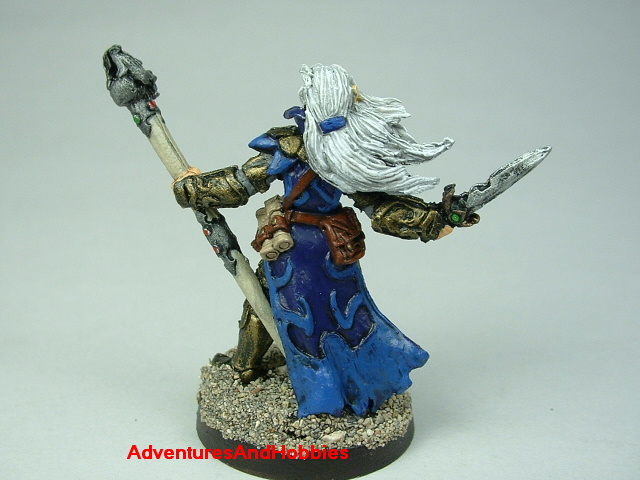 Here is a
powerful opponent
ready to confront the
adventures
in your
fantasy campaign
. A nice casting that captures the malevolence of the character.
Comments Off